Discover the Power of Private Credit
Dive into why private credit stands out as the superior option for investment income.

In an ever-evolving financial landscape, understanding your investment options is crucial. Private credit offers a compelling alternative to traditional bonds, presenting unique opportunities for both accredited investors and institutions. Equip yourself with the knowledge to make informed decisions and optimize your investment strategy.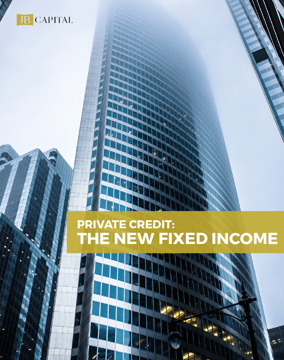 What's Inside
A History on the Rise of Private Credit: The private credit market swelled to $1.2 trillion at the end of 2021 and is predicted to double by 2026, reaching a staggering $2.69 trillion.
Private Credit vs. Traditional Bonds: A comparative analysis highlighting the advantages of private credit.
Potential Returns & Risks: Get insights into the potential rewards and challenges associated with private credit investments.
Diversifying with Private Credit: Learn how private credit can be a valuable component of a diversified investment portfolio.
Historical Perspectives: Delve into insights from the late 1990s when former Fed Chair Alan Greenspan questioned the nature of the economy and credit's role in business growth.
Analyst Observations: Learn about the challenges investment managers have faced in recent years, from limited value stock opportunities to high valuations.
Ready to Discover Private Credit?
Enter your details below and receive your comprehensive digital guide on the power of private credit.
Today, everywhere you turn private credit is dominating the headlines and the topic of conversation with nearly investor in the country. The growth of this market has been nothing short of phenomenal over the last decade. With conventional lenders cutting back their financing efforts, private funds have filled the void to provide crucial financing to the real economy and meet the ever-growing demand. The combined with investors' appetite for yield, has provided near perfect conditions for this market to flourish.
"I feel confident to the point where I'm inviting close friends and family to get in with JB Capital as well. I wouldn't do that if I didn't have a track record where there are no hiccups and I find that to be a rarity in the syndication space rather than the norm."
"Its so hard to find good, safe cashflow these days, and they candidly pay like a slot machine every month which is a wonderful experience that I don't get very often."
"The best part about this is that we are not just a fund buying some nonsense in the sky that doesn't actually produce real tangible benefits. We are helping companies grow and helping business figure out real hard financial problems."
Is Private Credit the Right Fit for Your Portfolio?
Every investor's journey is unique. Schedule an initial call with our expert team at JB Capital. Let's explore how private credit can align with your specific investment goals and strategy.